Head tennis instructor Greg Boire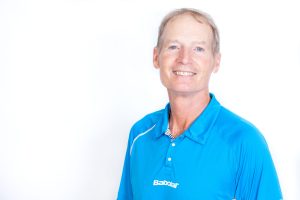 Greg Boire is a highly accomplished Head Tennis Instructor, currently in his 28th year at Hampstead Tennis and embarking on his 39th year in the field. With a remarkable track record, Greg has established himself as a prominent figure in the tennis community.
During his early career, Greg showcased his exceptional skills as a player. He was recognized as a Galea Cup member for Canada and achieved remarkable success in the Quebec Junior circuit, clinching the provincial championship for eight consecutive years in his age category. In the previous year, Greg attained an impressive national ranking of number three in Canada for under 18s and secured the top position in Quebec.
Greg's passion for the sport led him to compete on the ATP men's professional tennis tour from 1982 to 1984, where he consistently performed at a high level. He reached notable rankings of number two in Quebec and number seven in Canada, further solidifying his reputation as a formidable competitor.
As a coach, Greg has left an indelible mark on the tennis landscape. He successfully guided the McGill women's varsity tennis team to two national titles in 1997 and 1998, showcasing his ability to develop and lead exceptional athletes. Greg's coaching prowess extends beyond the collegiate level, having trained numerous ladies interclub teams to remarkable medal performances at Nun's Island, CDL, and Rockland Sport.
Greg's dedication to the sport remains unwavering, as evidenced by his recent accomplishments. In 2021, he celebrated a competitive tournament victory, securing the 55 and over provincial men's doubles championship alongside his partner, Dariusz Kozak.
With an impressive blend of playing expertise and coaching acumen, Greg Boire continues to inspire and elevate the tennis community, leaving an enduring legacy in the sport. The Town of Hampstead enthusiastically welcomes him back this year!
Tennis lesson rates  
30 min Adult $45
1 hour Adult $80
Group 90 min (3 people) $48 each
Group 90 min (4 people) $42 each
To book with Greg, please email him directly at gregboire@gmail.com
Catégories