Tennis instructor Jack Cinciripini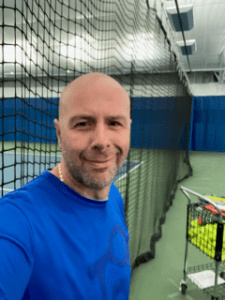 Jack's passion for tennis is infectious, as he always seeks out players who are eager to challenge themselves and push their limits. Tennis is not just a game for him; it's a way of life. With nearly 25 years of full-time coaching experience, Jack goes beyond teaching technique and strategy. He emphasizes the significance of developing mental and physical strength to enhance one's game.
While achieving positive results is rewarding, Jack believes that qualitative improvement is the ultimate measure of success. He understands that each player is unique and tailors his teaching methods to align with individual goals.
Currently, Jack coaches high-performance juniors at Nun's Island Tennis Academy, where several of his students have secured Canadian national championships in both singles and doubles. Moreover, numerous players under his guidance have earned full tennis scholarships at renowned NCAA Division 1 schools like Duke, Florida, Arizona State, Tennessee, and UCLA.
Jack has had the privilege of working with Canada's Federation Cup squad on three separate occasions. His contributions to the sport have been recognized by Tennis Canada, earning him the prestigious award for the top Canadian coach on the international scene. Moreover, he holds the distinction of being a certified Tennis Canada level 3 coach.
Jack's coaching expertise has successfully developed one of Canada's top female players, Valerie Tetreault. Valerie has achieved remarkable accomplishments, including being a six-time national champion and reaching a career-high ranking of #114 in the world.
Throughout his career, Jack has coached players to victory in six ITF singles open titles and five ITF junior titles. His credentials also include working with other prominent Canadian women in tennis.
In addition to his coaching responsibilities, Jack has traveled to various countries across five continents, accompanying top players to ITF, WTA, and ATP tournaments. This includes participation in all four Grand Slams, Indian Wells, Key Biscayne, and over 100 ITF tournaments. His global exposure and experiences have enriched his coaching approach and provided him with invaluable insights into the international tennis circuit.
Jack recently won tennis Quebec high performance coach of the year and Hampstead enthusiastically welcomes him to lead the summer tennis clinic.
To know more, visit our tennis page.
Catégories